Sunscreen is a must-have beauty product to include in your beauty care routine irrespective of skin type. All you have to do is pick it wisely. If you have an oily screen, read this blog to know about the 7 Best Sunscreens for Oily Skin.
Do you have an oily skin type? Do you not want to slather your face with sunscreen that can make it oily?  Don't worry. We are here to help you choose the best sunscreen lotion that matches your skin type. 
Nowadays, the market is overflowing with many sunscreen lotions for the oily screen that is lightweight, non-oily, and do not make your screen look sparkling or suffocated. So, scroll down to know the best daily sunscreens for your oily skin that will prevent an oil slick on your face.
Here is the list of Best Sunscreens for Oily Skin:
EltaMD UV Clear Facial Sunscreen Broad-Spectrum SPF-46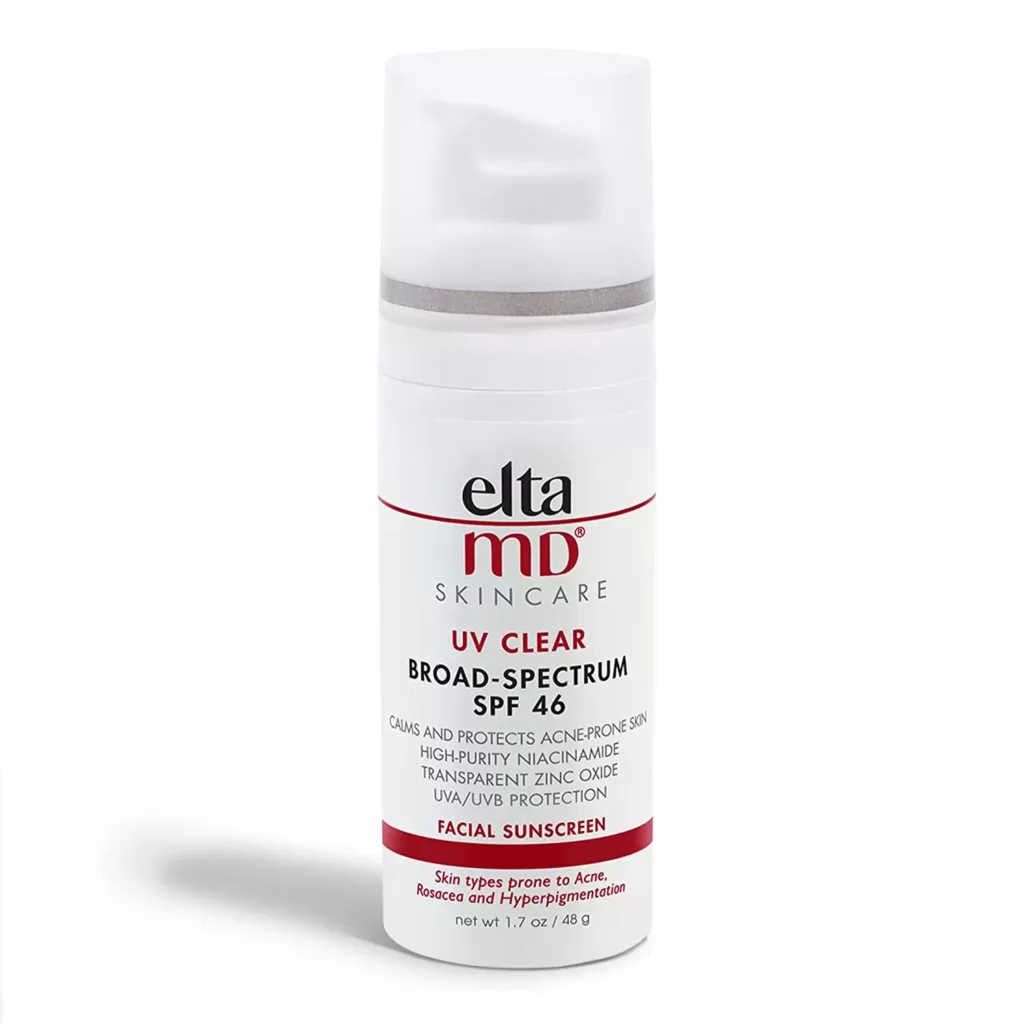 Featuring first on the list is EltaMD UV Clear Facial Sunscreen SPF 46. This sunscreen lotion is always a favorite among dermatologists, and that is also for a good reason. This product is oil-free, lightweight, and fragrance-free. Therefore, it will not be the reason for irritation.
If you have an acne-prone sensitive screen, then this product is the perfect pick for you. The product contains all-good ingredients for your skin, such as Vitamin E, lactic acid, zinc oxide, octreotide, and niacinamide that will absorb and reflect UV rays away from your skin.
Pros
Oil-free
Lightweight
Mineral-based that protects without a greasy look
Improve skin tone
Cons
Not water-resistant
Expensive
Tatcha Silken Pore Perfecting SPF 35 Sunscreen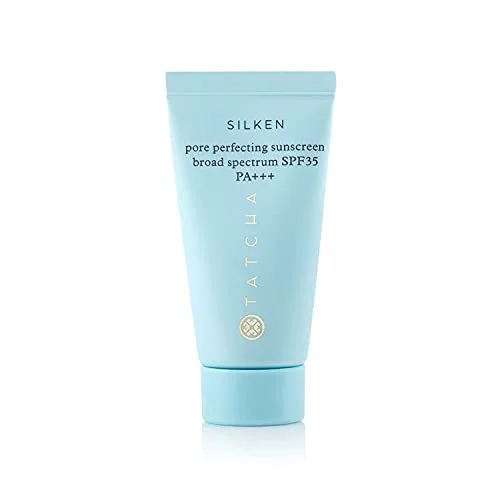 The next on the list is Tatcha SPF 35 screen. Of course, its tube is tiny, but it goes a long way. If you are looking for the perfect everyday sunscreen, it is the best one to opt for. For oily skin, this sunscreen feels lightweight and provides a soft matte finish, and also blurs the look of uneven skin texture and large pores.
Pros
Weightless
Offers matte-finish look
Non-irritating
Dermatologist-tested
You can use it as a make-up primer
Cons
It is costly than its competitor, but you will get what you pay for.
Olay Daily Moisturizer With SPF 30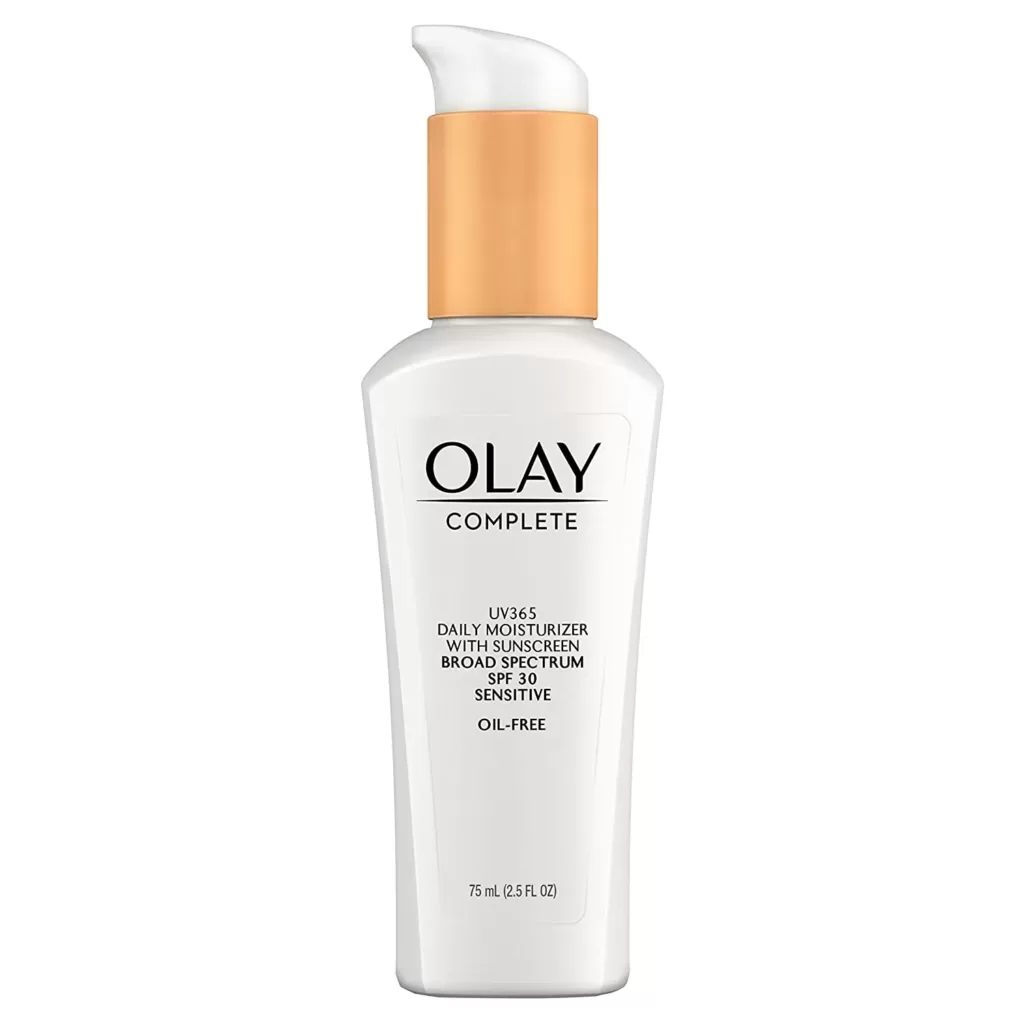 Up next on the list is Olay Daily Moisturizer With SPF 30. If you do not want to spend many bucks on sunscreen lotion and are looking for a more affordable one for your oily skin, then Olay Daily Moisturizer With SPF 30 is the best pick for you.
This sunscreen lotion is quite thick than EltaMD. However, Olay's daily moisturizer is still oil-free and non-comedogenic. Here are the main ingredients that are used in this sunscreen.
Octinoxate
Octocrylene
Octisalate
Zinc Oxide
All these ingredients are beneficial to oily skin. Let us check out some pros and cons of this sunscreen lotion.
Pros
This sunscreen is oil-free and non-comedogenic.
It is riched with vitamin B3, B5, and vitamin E providing you with anti-aging benefits.
Best for sensitive skin
It contains aloe vera gel that will help soothe the skin.
Cons
It might give a greasy look than other sunscreens listed in the list.
If you are recovering from acne breakout/rosacea, you cannot apply it to your damaged skin.
It does not even out your skin tone.
Cetaphil DermaControl Oil Absorbing Moisturizer SPF 30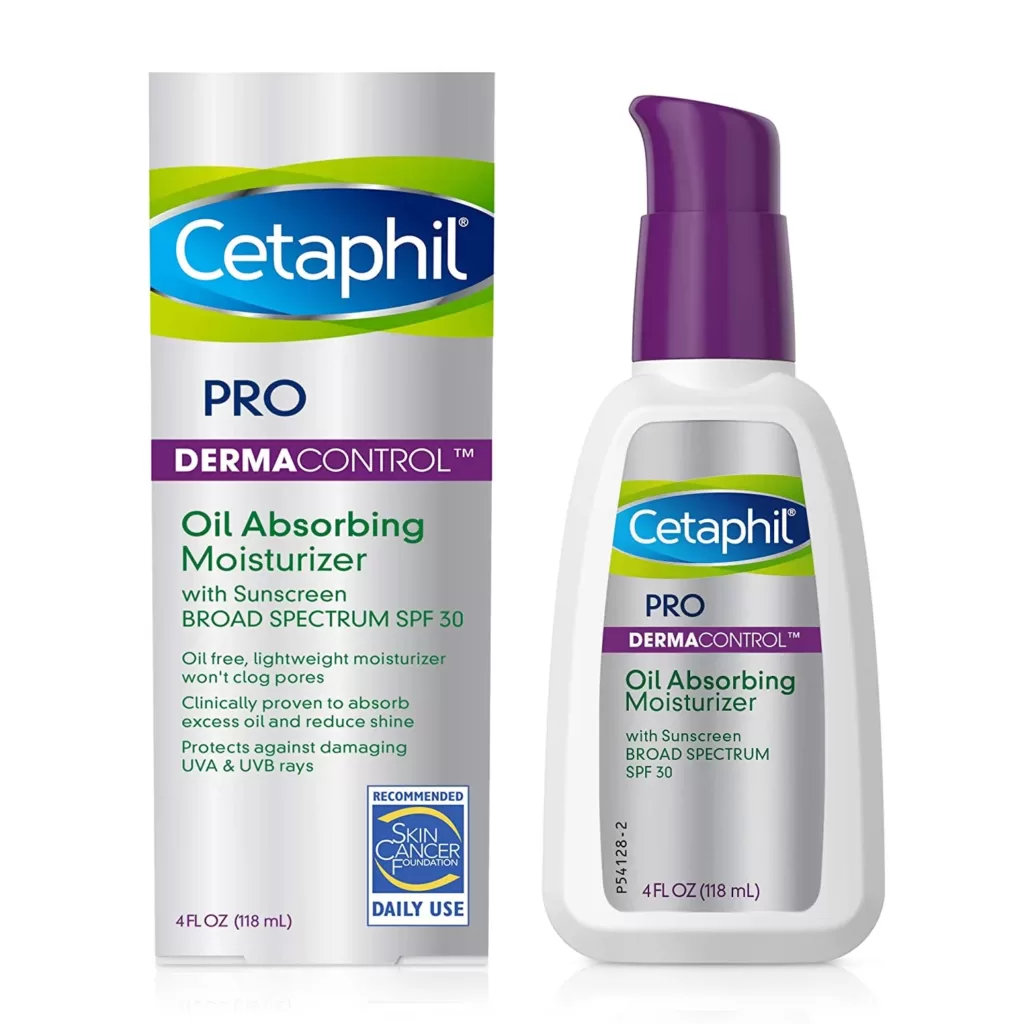 Coming up next on the list is Cetaphil SPF 30 moisturizer + sunscreen. The skin cancer foundation has approved this sunscreen lotion, and it truly protects your oily skin. If you are suffering from acne-prone and sensitive skin, then you should definitely try this sunscreen lotion. The best thing about this product is it is non-comedogenic. So, you do not need to worry about clogged pores or probable pimples.
Pros
Lightweight
Non-greasy
Delivers light hydration
Mattify skin and keep excess oil away
Cons
Not waterproof or sweat-proof
It may require reapplication.
Neutrogena Clear Face Oil-Free Sunscreen SPF 55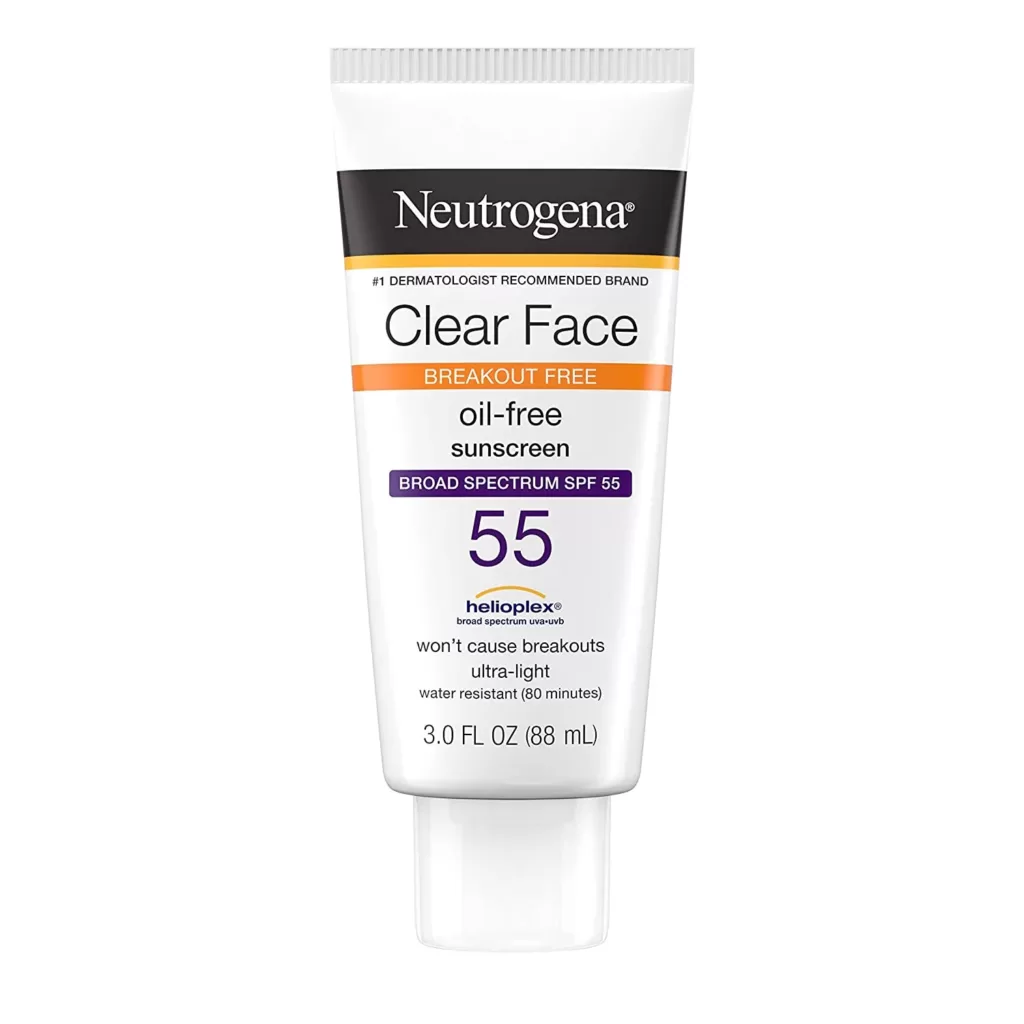 Featuring next on the list of the best sunscreen for oily skin is Neutrogena SPF 50 sunscreen. You must be aware that Neutrogena is a well-known brand for oily skin. If you are looking for a high-SPF sunscreen lotion that keeps your skin protected, then Neutrogena is the perfect pick for you. If you usually go for outdoor activities like jogging or swimming, this water-resistant sunscreen lotion is the best investment.
Pros
Fragrance-free
Non-comedogenic
Hypoallergenic
lightweight
Cons
It contains alcohol & parabens
La Roche-Posay Anthelios Ultra Light Sunscreen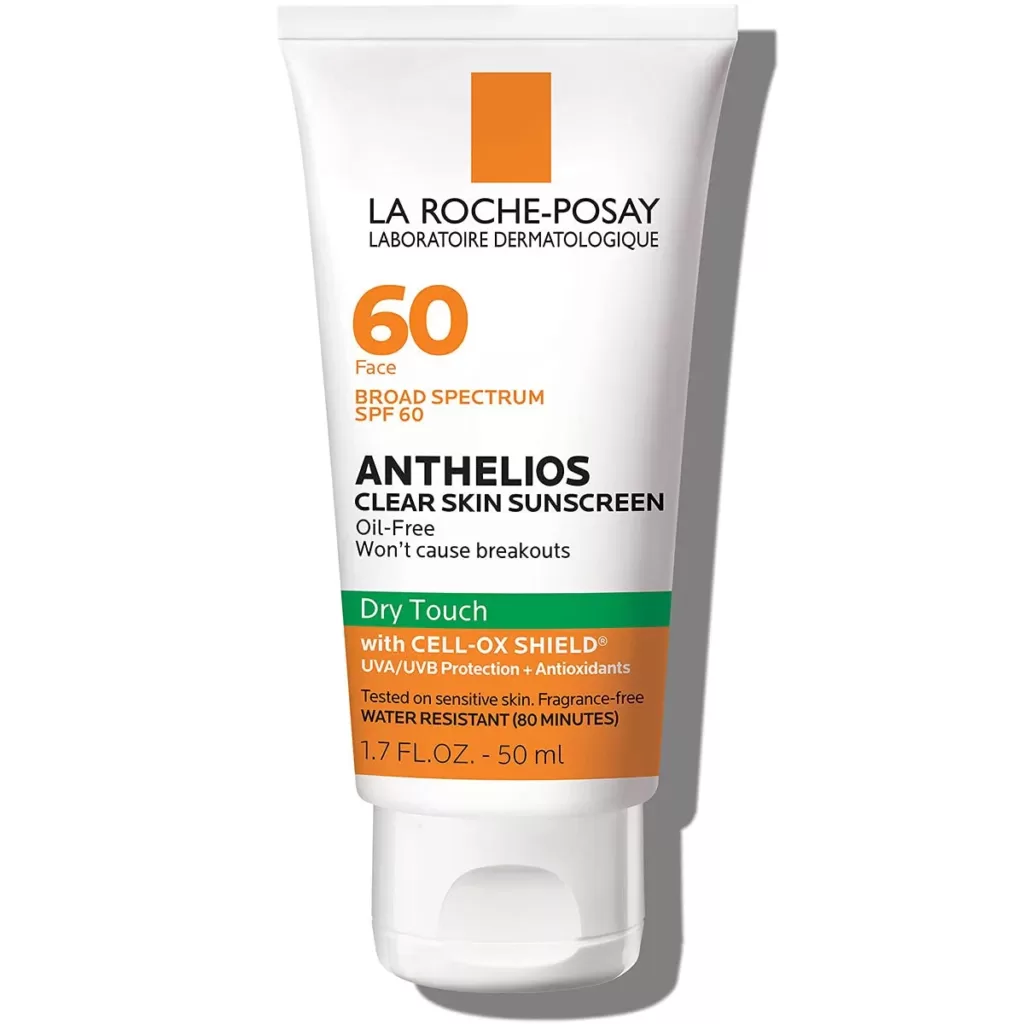 Up next on the list is La Roche-Posay Ultra light sunscreen. If you do not want the extreme matte finish EltaMD UV Clear provides, then La Roche-Posay is the perfect pick for you. This sunscreen provides you with a matt finish along with a slightly thicker finish. Let us check out a few pros and cons of this product.
Pros
SPF 60
Improves skin tone
Lightweight
Quickly gets absorb
It comes with a cell-ox shield that ultimately deflects UV rays.
Cons
It might leave your skin feeling slightly greasier.
It works best for older people whose skin needs more moisture.
Costlier than competitors
CeraVe Ultra-Light Moisturizing Lotion SPF 30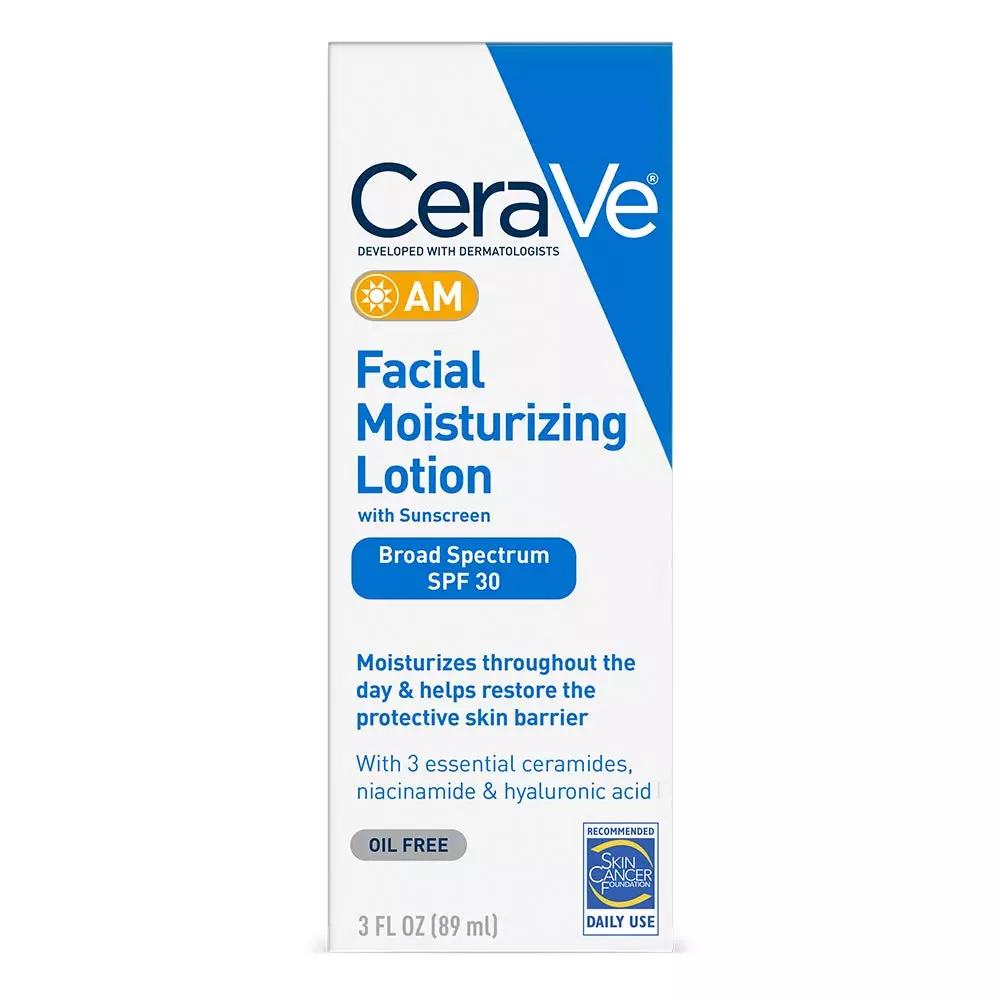 Last but not least on the list is CeraVe Ultra-Light moisturizing lotion SPF 30. If you love the matte finish and searching for a lightweight moisturizer along with SPF, this is the perfect product for you. This sunscreen keeps your skin hydrated and protected. And, that also without giving you greasy or heavy feeling. In short, this sunscreen is the best warm-weather sunscreen for oily skin types.
Pros
Water and sweat resistance for up to 40 minutes
Oil-free
Lightweight
SPF 30
Highly recommended by the skin cancer foundation
Non-comedogenic
Cons
Read Also
7 Best Face Wash for Oily Skin
Conclusion:
In a nutshell, it may not seem as alluring to put on sunscreen, especially when you have oily skin. However, to protect your skin from aging and other kinds of sun damage, you must have to wear sunscreen. The above-listed sunscreens are lightweight, non-shiny, and mattifying sunscreens that will absorb quickly, do not feel greasy and improve your skin over time.